How to use Crutches
Updated:
Why
use crutches?
If used correctly, crutches can accelerate the healing of certain injuries by reducing potentially detrimental weight bearing forces during walking or standing. This allows healing to take place in the absence of further tissue damage, thereby accelerating recovery. Crutches may also improve mobility and walking technique. In addition, patients who use crutches correctly may be less likely to develop other injuries due to compensatory walking strategies (i.e. limping).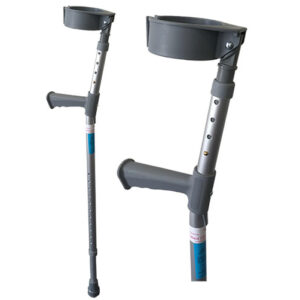 ---
When should crutches
be used?
As a general rule, if walking is painful and causing you to limp due to your injury, crutches are most likely to be useful. The suitability of crutches can be determined by a physiotherapist. Crutches are also indicated for conditions including:
Most surgical procedures or fractures of the

lower limb

Most moderate to severe sprains of the ankle, knee

or hip

Moderate to severe muscle strains of the

lower limb
All patients using crutches should see their physiotherapist to ensure their crutches are fitted and used correctly and that it is appropriate to use them.
---
---
How much weight should I be placing through my injury when
using crutches?
---
How can I
obtain crutches?
Crutches can usually be hired on a weekly basis from your local pharmacy. Alternatively, crutches can be purchased through the PhysioAdvisor Shop.
---
How do I set up my
crutches correctly?
It is important to obtain crutches that are comfortable for use and are in a safe and working condition. Ensure you have no upper limb injuries that may be aggravated through the use of crutches. Adjust the height of the crutches so your elbow is at a slight bend and your back is straight (figure 1).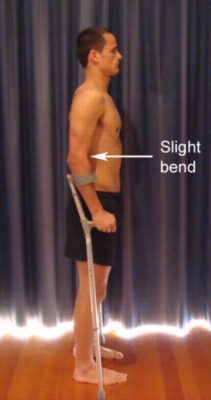 ---
---
---
How do I use my
crutches correctly?
There are several walking patterns that may be used with crutches to accelerate healing of injuries and allow for mobility. The correct pattern for a particular condition and patient should be guided by your physiotherapist.
---
Crutches walking pattern 1 – Non
Weight Bearing
The following crutches walking pattern is the non weight bearing pattern (figure 2) and is the most effective way to reduce stress on the injured leg. You should discuss the suitability of this walking pattern for your condition with your physiotherapist. Generally it may be used for a period of time with severe injuries (such as fractures), following some surgical procedures or in the first 1 – 3 days following injury.
When walking, place both crutches on the ground in front of you, followed by hopping with your good leg either to the level of the crutches or slightly past them. Proceed slowly at first, practise in a safe environment to prevent falls and ensure you are maintaining good control and balance. Keep the injured leg off the ground throughout this walking pattern.
As your condition improves, this pattern may be progressed to one of the below partial weight bearing patterns as directed by your physiotherapist and provided symptoms do not increase.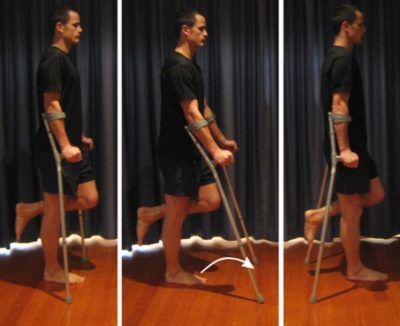 ---
---
Crutches walking pattern 2 –
"Step To"
---
Crutches walking pattern 3 –
"Step Through"
---
How do I use my crutches when going up and
down stairs?
---
When can I stop using
my crutches?
---
How to use
Crutches Summary
---
Physiotherapy Products to assist with crutches use
and rehabilitation
To purchase physiotherapy products to assist with crutches use and injury rehabilitation click on one of the above links or visit the PhysioAdvisor Shop.
---
Find a
Physio
Find a physiotherapist in your local area who is an expert in the use of crutches and injury rehabilitation.
---
Become a
PhysioAdvisor Member
---

Link to this Page
If you would like to link to this article on your website, simply copy the code below and add it to your page:
<a href="https://physioadvisor.com.au/health/injury-rehabilitation/how-to-use-crutches">How to use Crutches – PhysioAdvisor.com</a><br/>PhysioAdvisor offers detailed physiotherapy advice and health information on how to use crutches correctly and when to use crutches.
---
Return to the top of How to use Crutches.