Description
Industrial Back Supports
PhysioAdvisor's back supports and back braces have been carefully selected by experienced physiotherapists to ensure excellent quality and maximal benefit for patients.
---
Oppo Industrial Back Support (OPP2169)
The Oppo Industrial Back Support is designed to reduce stress on the joints and muscles of the spine during any physical activity placing the spine at risk of injury or injury aggravation. It is comfortable, economical and effective – ideal for use at home or work for those patients suffering from lower back pain. The Oppo Industrial Back Support is lightweight, comfortable and provides excellent support to the lower back.
Features:
Helps prevent and relieve lower back pain.
Easy to apply and remove. Inconspicuous to wear.
May be used for both the lumbar and lumbo-sacral regions.
Four pliable support splints in the back for extra stability.
Black colour suitable for workplace
Shoulder straps for convenience – can easily be cut off with scissors if preferred
Materials:
70% Polyurethane Foam
30% Nylon
How To Wear:
Wrap support around the waist and be sure the four stays are on each side of spine.
Adjust the support to desired compression and secure the hook and loop strap to the front of support.
Pull the elastic reinforcement straps to tighten, then secure to the front of support.
Bring the cross shoulder straps over the shoulders, adjust the length of the cross shoulder straps to tighten.
Sizing (Measure waist circumference in cm)
Small – 73.5 – 84cm
Medium – 84 – 96.5cm
Large – 96.5 – 109cm
XLarge – 109 – 124.5cm
XXLarge – 124.5 – 137cm
---
Back Support Shoulder Straps / Braces
The elastic shoulder straps are often used to help snug fitting of this back support and to keep it in the ideal place. They are also useful in a workplace or during activities which may only require intermittent use of the brace. In this situation, you can release the tension of the velcro and continue to wear the support by letting it hang using the straps. Then at the time you need to protect your back again, simply re-tighten the brace. This can save time and hassle associated with completely taking the back support off and then putting it back on again for further use.
Removing shoulder straps / braces
If you do not require the shoulder straps, simply cut them off with a pair of scissors.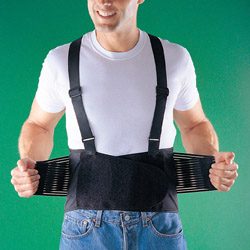 Other Back Supports & Braces:
---