Description
Industrial Back Supports
PhysioAdvisor's back supports and back braces have been carefully selected by experienced physiotherapists to ensure excellent quality and maximal benefit for patients.
When it comes to managing lower back pain or injury, a back brace can be a valuable tool to minimise injury aggravation and accelerating healing.
---
Oppo Industrial Back Support (OPP2169)
The Oppo Industrial Back Support is designed to reduce stress on the joints and muscles of the spine during any physical activity placing the spine at risk of injury or injury aggravation. It is comfortable, economical and effective – ideal for use at home or work for those patients suffering from lower back pain. The Oppo Industrial Back Support is lightweight and provides excellent support to the lower back.
Features:
Helps prevent and relieve lower back pain.
Easy to apply and remove. Inconspicuous to wear.
May be used for both the lumbar and lumbo-sacral regions.
Four pliable support splints in the back for extra stability.
Black colour suitable for workplace
Shoulder straps for convenience – can easily be cut off with scissors if preferred
Materials:
70% Polyurethane Foam
30% Nylon
How To Wear:
Wrap support around the waist and be sure the four stays are on each side of spine.
Adjust the support to desired compression and secure the hook and loop strap to the front of support.
Pull the elastic reinforcement straps to tighten, then secure to the front of support.
Bring the cross shoulder straps over the shoulders, adjust the length of the cross shoulder straps to tighten.
Sizing (Measure waist circumference in cm)
Small – 73.5 – 84cm
Medium – 84 – 96.5cm
Large – 96.5 – 109cm
XLarge – 109 – 124.5cm
XXLarge – 124.5 – 137cm
---
Back Support Shoulder Straps / Braces
The elastic shoulder straps are often used to help snug fitting of this back support and to keep it in the ideal place. They are also useful in a workplace or during activities which may only require intermittent use of the brace. In this situation, you can release the tension of the velcro and continue to wear the support by letting it hang using the straps. Then at the time you need to protect your back again, simply re-tighten the brace. This can save time and hassle associated with completely taking the back support off and then putting it back on again for further use.
Removing shoulder straps / braces
If you do not require the shoulder straps, simply cut them off with a pair of scissors.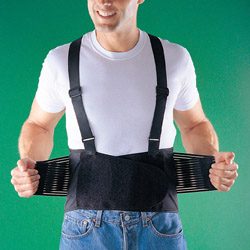 ---
When to Use a Back Brace
If you're experiencing lower back pain, a back brace can be an effective way to accelerate healing and reduce your symptoms. These supports are beneficial for those in the acute phase of their condition and those who suffer from chronic back pain. Back supports can help to reduce the amount of aggravation caused by daily activities, allowing you to maintain a greater level of activity while recovering.
It is generally recommended that the Oppo Industrial Back Support is used during any activity that is likely to aggravate your injury (i.e. cause an increase in symptoms). When performing levels of activity that your back can tolerate without an increase in your symptoms, you should generally take the back brace off.
---
How Back Braces Help
Back braces work by restricting end-of-range spinal movements, providing stability and support during general movement. This helps to reduce stress on the joints and muscles of the lower back, which in turn can aid healing and help to prevent an increase in pain and discomfort. In addition, by providing support during aggravating activities, back braces can help to reduce the risk of reinjury.
Achieving an Ideal Healing Environment
To accelerate recovery following injury, it is vital to achieve an environment of healing without further tissue damage. This can be achieved by ensuring the forces placed on the spine during daily activity are within the injured tissue's tolerance.
By using a back support to reduce stress on the spine during these activities, the likelihood of injury aggravation diminishes therefore allowing the healing process to progress uninterrupted.
---
Conditions that may Benefit from Back Braces
The following conditions may benefit from the use of a back support or brace:
Lower 

Back Strain

Lower 

Back Sprain

Muscular Strain
---
Conclusion
If you're suffering from lower back pain or injury, a back brace can provide the support and stability you need to manage your symptoms and accelerate healing. It is an ideal tool for those who experience an increase in pain during daily activities (such as gardening, housework, sitting, bending, lifting etc.) and can be used during these activities to reduced the likelihood of injury aggravation (therefore accelerating healing). Shop our selection of back supports today and take the first step towards relief.