Description
Lumbar Rolls ('D'Shaped)
'D' Shaped Lumbar Rolls (such as the McKenzie Slim Line Lumbar Roll) are designed to ensure you maintain an optimal spinal position for your lower back whilst sitting (figure 1). This is essential to minimise stress on your spine and is a must for patients who suffer from lower back pain (particularly during or after sitting or driving). The McKenzie Slim Line Lumbar Roll is one of the best lumbar rolls on the market and is frequently recommended by Physiotherapists.

Figure 1 – Optimal sitting posture using a 'D' shaped lumbar roll
---
Optimal Sitting Posture using a Lumbar Roll
X-rays of the lower back during sitting demonstrate that the lower back falls into a flexed (forward bent position). This is particularly the case when sitting slouched (figure 2) – which places the lower back into it's maximal forward bend (similar to standing up and touching your toes). This position places considerable stress on the lower back and can cause back injuries or perpetuate existing lower back injuries. It also places the upper back and neck into poor postural alignment increasing stress on these regions and increasing the likelihood of upper back and neck injury or injury aggravation.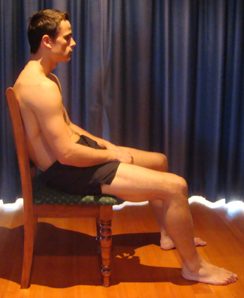 Figure 2 – Poor sitting posture without using a lumbar support
Reducing the degree of forward bending of the lower back during sitting is vital to minimise stress on the entire spine and hasten recovery from injury. PhysioAdvisor's 'D' Shaped Lumbar Rolls (such as the McKenzie Slim Line Lumbar Roll) are an excellent lumbar support designed for this purpose. The supports help to maintain the natural lumbar lordosis (inward curvature of the lower back) and come with a strap for optimal positioning on any chair.
A lumbar roll is a must have item for patients who suffer from lower back pain (especially considering the long duration we often sit – sometimes in excess of 8 hours / day).
The strap feature of these lumbar rolls ensure the lumbar support remains in the correct position as it hugs the chair or seat. Lightweight, portable and easy to use, these 'D' shaped lumbar rolls are ideal for the prevention and management of lower back pain, upper back pain and neck pain – whether in the car, office or at home.
---
The McKenzie Slimline Lumbar Roll
The Original McKenzie™ SlimLine Lumbar Roll can be used to provide excellent lumbar support in chairs with no existing lumbar support (in the car, at the computer, in the lounge room or dining chair). They can also be used to compliment existing lumbar supports which frequently provide inadequate support (such as those found in modern cars and some modern seating). The Original McKenzie™ SlimLine Lumbar Roll has the McKenzie adjustable strap and a removable washable Polar Fleece™ cover, giving it a luxurious feel and making it superior to many other similar 'D' shaped supports on the market.
In our experience, the McKenzie Slimline lumbar roll is the most popular lumbar support in clinical practice. It has an ideal density and shape making it the optimal support for the majority of patients in clinical practice whilst also being very comfortable to use.
If you're not sure about which lumbar roll you'd like to purchase, this is the one our Physiotherapists would recommend.
Low Profile 'D' shaped lumbar support for a great fit
Dimensions (McKenzie™ SlimLine Lumbar Roll)
Size: 325mm X 200mm X 70mm (deep)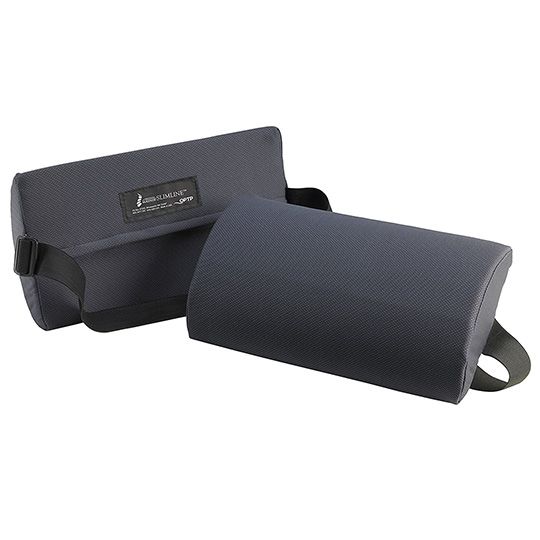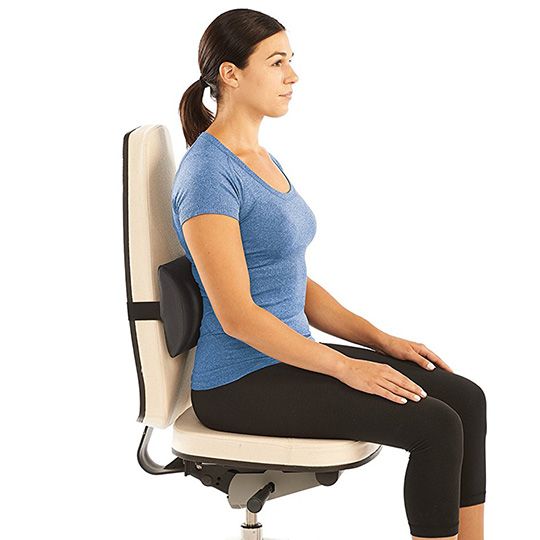 ---