Description
Knee Braces
PhysioAdvisor's knee braces have been carefully selected by experienced physiotherapists to ensure excellent quality and maximal benefit for patients. PhysioAdvisor chooses to sell the Mueller Hinged Knee Brace as its premier hinged knee brace as it provides superior support and comfort and is commonly recommended by physiotherapists and other health professionals.
---
Mueller Hinged Knee Brace
The Mueller Hinged Knee Brace provides excellent support to the knee. It is particularly beneficial for patients with the following conditions:
Medial and Lateral Collateral Ligament injuries
Anterior and Posterior Cruciate Ligament injuries
Medial and Lateral Meniscal Tears
Weak, injured or arthritic joints
The Mueller Hinged Knee Brace reduces stress on the knee during activity. This therefore reduces the risk of injury aggravation, allowing an earlier return to sport or activity, whilst hastening healing. The triaxial Hinge helps give you maximum medial-lateral support without restricting mobility.
The ultimate brace for week or injured knees. The Triaxial Hinge closely simulates the natural tracking of the knee joint, while the fitted slip-on sleeve with adjustable straps provides a custom fit. Recommended to help provide support to weak, injured or arthritic joints; helps prevent medial-lateral movement and hyperextension of the knee.
Instructions:
Loosen all straps
Pull brace on and over your knee
Align kneecap just above the buttress
Tighten top and bottom straps
Adjust as needed to obtain optimal comfort and fit
Sizing
Measure around the center of the knee.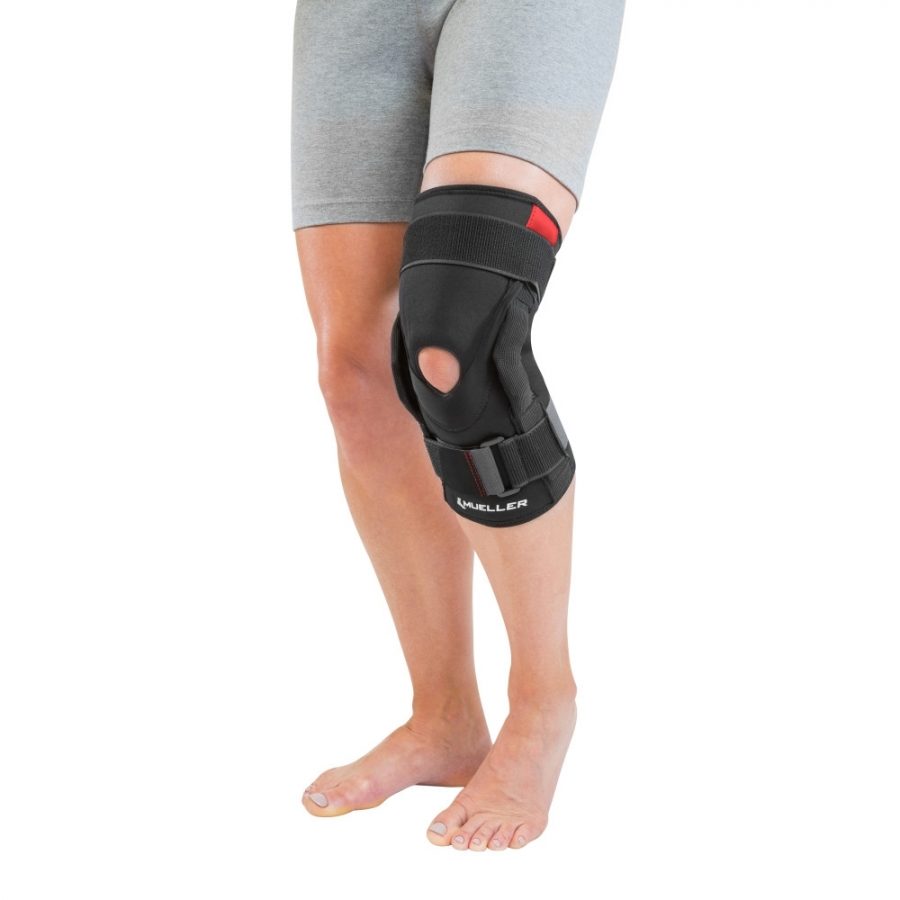 ---
Sizes (Mueller Hinged Knee Brace)
Measure circumference around the centre of the knee, whilst in a standing position, with the knee slightly bent:
| | |
| --- | --- |
|  Measurement | Size |
|  25 – 30cm | X-Small |
|  30 – 35cm | Small |
|  35 – 40cm | Medium |
|  40 – 45cm | Large |
|  45 – 50cm | X-Large |
|  50 – 55cm | XX-Large |
---
Other Knee Supports and Braces
---