Description
4 Wheel Walker
This high quality 4 wheel walker features wide wheels and a convenient walking cane holder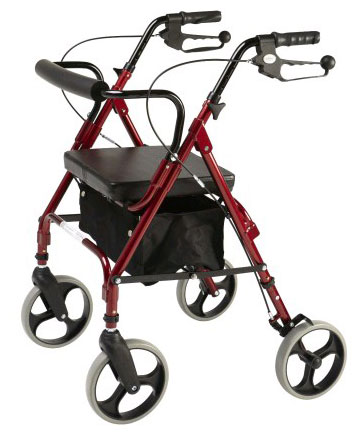 Alpha 418 Rollator Mobility 4 Wheel Walker Features
lightweight aluminium frame (easy to maneuver and get in and out of the car) .
padded seat & foam backrest (for maximal comfort allowing the user to sit and rest at any time).
adjustable handle & loop brakes (ensuring optimal postural alignment).
8″ wheels & nylon storage bag (better than smaller wheels for navigating rocky or uneven terrain).
easy to fold for travel or storage.
convenient walking cane holder
maximum user weight capacity of 125kg.
this 4 wheel walker is ideal for those who are unsteady on their feet or at high risk of falls when walking with only a walking stick or no gait aid (particularly the elderly or those with osteoporosis putting them at high risk of fractures)
often used in the rehabilitation of many lower limb injuries and following surgery to the lower limb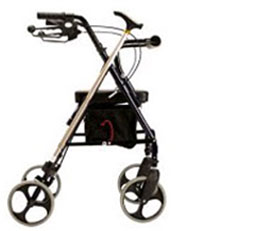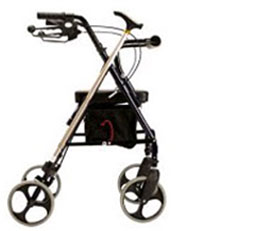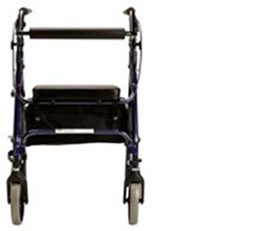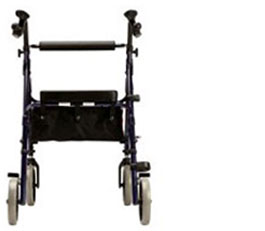 | | | |
| --- | --- | --- |
| ALPHA 418 ROLLATOR DIMENSIONS | Metric | Imperial |
| Approximate Total Product / Unit Weight | 8.6 kg | 19.0 lbs |
| Overall Width (product or frame when opened) | 610 mm | 24.0 inch |
| Overall Depth (product or frame when opened) | 680 mm | 26.8 inch |
| Width / Depth (product or frame when closed) | 180 mm | 7.1 inch |
| Overall Height (or height range if adjustable) | 830 – 980 mm | 32.7 – 38.6 inch |
| Armrest Width (outside dimension) | N / A | N / A |
| Armrest Width (inside dimension) | 440 mm | 17.3 inch |
| Armrest Height (from top of seat) | N / A | N / A |
| Back / Back-Rest Height (from top of seat) | 240 mm | 9.4 inch |
| Seat Height (from top of seat to floor) | 570 mm | 22.4 inch |
| Seat Width (actual seat, not available space) | 350 mm | 13.8 inch |
| Seat Depth (actual seat, not available space) | 330 mm | 13.0 inch |
| Wheels (dimensions of front) | 203 mm | 8.0 inch |
| Wheels (dimensions of rear) | 203 mm | 8.0 inch |
| Recommended Maximum User Weight | 125 kg | 275.6 lb |
---
How do I set up my 4 wheel walker correctly?
All individuals using a 4 wheel walker should have an assessment with a physiotherapist to ensure the walker is setup correctly and they are using it correctly. This is important to encourage an optimal gait (walking) pattern, optimal postural alignment, whilst minimising the risk of falls and injury associated with poor bio-mechanical setup.  Here are some general tips on setting up a 4 wheel walker correctly:
Ensure you have no upper limb injuries that may be aggravated through the use of the walker.
Adjust the height of the handles so your elbow is at a slight bend when holding the handles and your back is straight.
You can also adjust the position of your wrist so there is only a slight backward bend (wrist extension) when holding the handles (Note that too much wrist extension places increased stress on the joints of the wrist).
Try to walk with a tall / long spine (as though you are a puppet and a piece of string is pulling your head towards the ceiling or sky).
Ensure the use of the 4 wheel walker does not cause or increase any pain.
Always check the setup of your 4 wheel walker with your treating physiotherapist prior to use.
---
 Other Gait Aids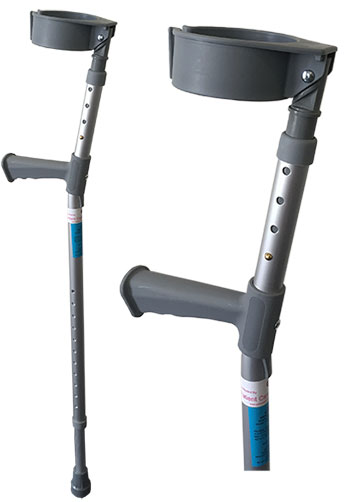 View our Forearm Crutches.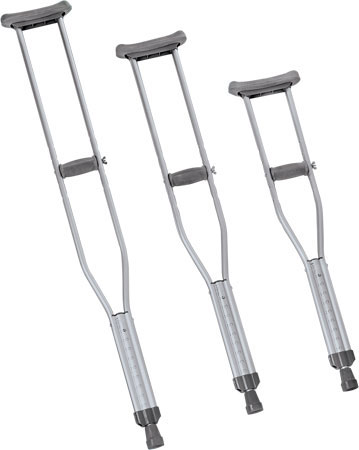 View our Axillary Crutches (Underarm Crutches)   
---
Return to the top of 4 Wheel Walker.