Description
Forearm Crutches
An essential rehabilitation tool for many lower limb injuries that require periods of reduced weight bearing forces. These forearm crutches tend to be easier to use than traditional axillary crutches (i.e. underarm crutches). A valuable and wise investment to have at home particularly for individuals or families involved in sports allowing immediate appropriate treatment (R.I.C.E. Regime) for any potential future lower limb injuries.
Features
Forearm crutches
Aluminium construction
Universal hand grip
Dual adjustable height between cuff & handle / handle & ground
Rubber tip/ferrule size: 22 mm
Maximum user weight capacity: 180 kg
Dimensions
| | | |
| --- | --- | --- |
| Code | Size | Approx. user height |
| PCF-YS | Small / Youth | 4′ 7″ – 5′ 5″ |
| PCF-MA | Medium / Adult | 5'4″ – 6′ 1″ |
| PCE-LA | Large / Adult | 5'6″ – 6′ 3″ |
Read detailed information on How to use Crutches.
---
When should forearm crutches be used?
In general, the use of crutches is most likely to be indicated and useful if walking is painful and causing you to limp due to your injury. The suitability of crutches can be determined by a physiotherapist. Crutches are also typically indicated for conditions including:
Most fractures or surgical procedures involving the lower limb
Most moderate to severe sprains of the hip, knee or ankle
Moderate to severe muscle strains involving muscles of the lower limb
All patients using crutches should see their physiotherapist to ensure their crutches are fitted and used correctly and that it is appropriate to use them. Your physiotherapist can also begin appropriate treatment to hasten the recovery of your condition.
---
How do I set up my forearm crutches correctly?
It is important to obtain forearm crutches that are an appropriate size for you. Ensure you have no upper limb injuries that may be aggravated through the use of crutches. Adjust the height of the crutches so your elbow is at a slight bend and your back is straight (figure 1).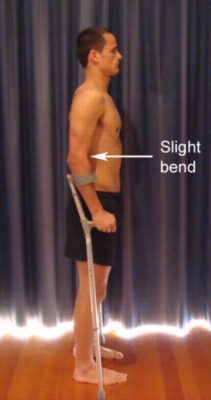 Figure 1 – Forearm Crutches Setup
---
Other Gait Aids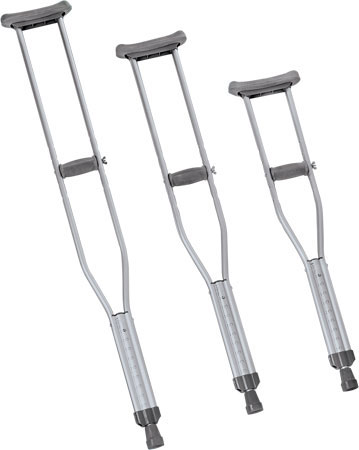 View our Axillary Crutches (Underarm Crutches)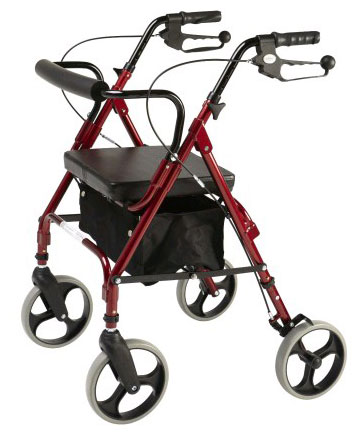 View our 4 Wheel Walkers.
---
Return to top of Forearm Crutches.