Description
Tennis Elbow Braces
PhysioAdvisor's tennis elbow braces have been carefully selected by our experienced physiotherapists to provide excellent quality and maximum benefit for patients. These tennis elbow braces are ideal for patients suffering from either tennis elbow or golfers elbow.
The Pro-Tec Tennis Elbow Strap is designed with dual compression strips to reduce stress on the tendons involved in tennis elbow or golfers elbow (i.e. lateral or medial epicondylitis). This reduces injury aggravation, hastens healing and allows an earlier return to activity.
The brace is designed with stretchable material which allows uninhibited mobility, whilst maintaining targeted compression where it is needed. Its firm, yet comfortable application helps support the muscles of the forearm and elbow, allowing the patient to perform more activities in less pain.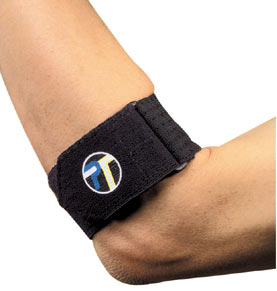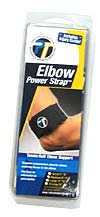 Benefits of the Power Strap
This high quality tennis elbow brace can alleviate pain and symptoms associated with:
Tennis Elbow
Lateral Epicondylitis
Golfers Elbow
Medial Epicondylitis
Biceps Tendonitis
Supinator Muscle Strain
Features
Dual compression strips which provide comfortable pressure, absorbing stress and reducing the onset of muscle fatigue.
Stretchable material allows uninhibited mobility, while maintaining targeted compression.
Material
Made from Plushback Elastic, Tubing, Plastic Loop (cushioned), and Velcro.
Feedback
"I strongly recommend the Elbow Power Strap above any other similar products on the market" – Gary Sato, Gold Medal US Volleyball Team.
---
Free Injury Guide

     Every Support comes with a free injury guide.
---
Sizing
Measure circumference just below the elbow:
| | |
| --- | --- |
|  Measurement |  Size |
|  17.8cm – 22.8cm (7″ – 9″) |  Small |
|  22.8cm – 27.9cm (9″ – 11″) |  Medium |
|  27.9cm – 33cm (11″ – 13″) |  Large |
|  33cm – 38.1cm (13″ – 15″) |  X-Large |
---