Description
Talarmade Trio Orthotics 3/4
A high quality orthotic providing medial (inner) arch support with additional support options for control of pronation (inward rolling of the foot) and loading of the forefoot.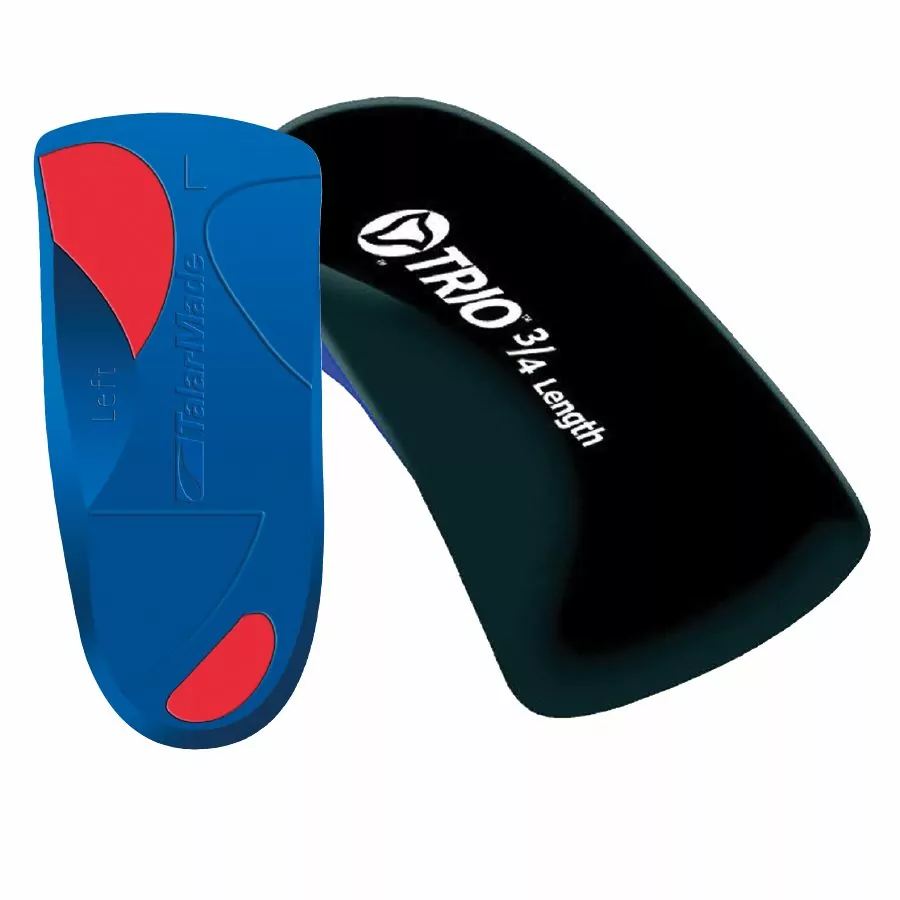 Features & Benefits:
• Inverting heel cup with intrinsic medial skive
• Anti-bacterial top cover
• Navicular support
• Location for lateral post
• Recessed 1st metatarsal cushion
• Recessed lateral
• Retron heel cushion extrinsic 3° medial post
• Location for additional medial biplanar heel post
Triplanar Rearfoot Inverting Orthotic Densities:
Medium Density – Blue

Firm Density – Red

X-Firm Density – Black
Each pair of Orthotics is supplied with 3° medial biplanar rearfoot posts, medial and lateral forefoot posts
• Can be used in conjunction with TalarMade MicroGrip surface additions
Indications for use:
• Plantar fasciitis
• Metatarsalgia
• Functional hallux limitus
• Patellofemoral pain syndrome
• Posterior tibial tendonitis
• Hallux valgus/limitus
• Biomechanical functional control where midfoot control is required

What is the TalarMade TRIO Made From? How long will they last?
The length of time TRIO orthotics last will vary between patients depending upon a number of factors including patient weight and activity level, however, around 6-8 months is the average. The product's life will be maximised if they are cared for properly. TRIO is manufactured from EVA (Ethylene Vinyl Acetate): The 3/4 Length and Full Length models are available in three densities, medium (45 Shore A), firm (60 Shore A) and extra firm (75 Shore A). Other models are available in medium density only. The top cloth material is impregnated with an anti-bacterial agent to reduce foot odor.
Which density should I use?
When selecting a model you should consider the severity of the condition, weight and activity level. Patients with moderate impact problems, average body weight and low or intermediate levels of activity are likely to need the medium density model. For patients requiring higher levels of control or for heavier patients with higher levels of activity choose the firm density. Patients requiring optimum control or an ultra hard wearing device should be prescribed the extra firm density.
What wearing in period is required?
A wearing in period must always be allowed to give the feet time to get used to the orthotic, however, it is not unusual to notice an immediate beneficial effect. Review with a Podiatrist or Physiotherapist may be required as the level of control may need to be changed during the course of treatment.
Can TRIO be customised?
Heat modification can be used on the underside of the device but care should be taken not to damage the post recessing areas. Further customisation of a TRIO orthotic can be made by using the TRIO Additions range. This includes metatarsal domes to normalise forefoot pressures and heel elevators to use in cases of ankle joint restriction or limb length differences.
Can TRIO be used in different shoes?
The TRIO range of foot orthotics has been designed to be used in a wide range of shoes, however, in tighter fitting footwear it may be more appropriate to use an Easy Fit or Slim Fit models.
Can they be cleaned?
TRIO orthotics should be cleaned regularly in order to prolong the product life expectancy. The best way to clean the devices is to gently sponge them with warm, soapy water and dry with a paper towel. Do not soak the product for long periods of time or dry artificially.
What should be done if the pain continues?
In resistant cases it may take some time for patients to derive the full benefit from a foot orthotic. If, after an initial period of 4 weeks, symptoms continue it may be necessary to review the level of control and change the posting angles – a Podiatrist or Physiotherapist should be able to assist. It is recommended that posting values should start low and gradually be increased if required. Patients are advised that if their symptoms deteriorate they should return to discuss the problem with their treating practitioner.
Sizing