Description
Rigid Sports Tape
Used by Physiotherapists, patients and elite athletes alike, Victor Sports Tape is a high quality brands of rigid tape used to support muscles and joints particularly following injury.
Features:
Highly aggressive rigid strapping tape.
Serrated edges.
Used by elite athletes for support to areas of the body that are under very high stress.
The primary benefits of rigid sports tape include:
Increased joint support
Reduced stress on the taped body region
Reduced pain during activity
Enhanced rehabilitation following injury
Allowing an early but safe return to sport or activity
Improved joint position awareness (proprioception)
Common uses:
Ankle strapping – Following a rolled ankle
Knee strapping – To correct knee alignment or reduce stress on the knee
Lower back taping – To support the spine and keep the back straight
Postural taping – To support the upper back and reduce stress on the upper back and neck
Shoulder taping – To support the shoulder particularly following a shoulder dislocation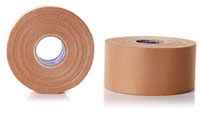 ---