Description
Elastic Adhesive Bandage
Sportstek's Victor Elastic Adhesive Bandage (EAB) provides strong elastic support to muscles and joints during high stress activity such as sport. The stretch tape features a central pink line to aid correct joint and muscular alignment and is available in a variety of sizes and pack quantities.
Some of the most common clinical indications for the use of elastic adhesive bandaging in sports include compression bandaging over muscular areas or for over wrapping rigid sports strapping for extra security in extreme conditions (such as those activities placing a joint or muscle at high risk of injury or injury aggravation).
Elastic Adhesive Bandaging can also be used to provide enhanced proprioception (joint position awareness) alerting a taped individual that their joint is moving towards the end of its range and placing them at risk of injury (i.e. feedback is provided by the stretch of the tape). This enhanced proprioception can act as a trigger for the taped individual to engage appropriate muscles to move the joint away from it's end of range position, therefore reducing stress on passive joint structures (such as ligaments, cartilage, joint capsule etc.) and preventing injury or injury aggravation.
Although rigid strapping is more supportive, EAB's are easier to apply as they conform more readily to the body part than rigid tape. They are also commonly used for holding wound dressings in place during rigorous sports activities.
PhysioAdvisor chooses to sell Sportstek's Victor brand of elastic adhesive bandage as its quality and function is comparable to other more popular brands whilst providing significantly better value for money.
Elastic Adhesive Bandage Features
Tan coloured Elastic Adhesive Bandage (EAB).
Plaster-style bandage primarily indicated for general support, compression bandaging, over wrapping of rigid sports tape and enhancing proprioception (joint position awareness).
High-quality stretch tape
Strong adhesive.
Provides high strength and stability without excessive bulk.
Ideal for over wrapping rigid sports tape for compression and additional support.
Elastic Adhesive Bandage Sizes:
25mm x 4.5m.
50mm x 4.5m
75mm x 4.5m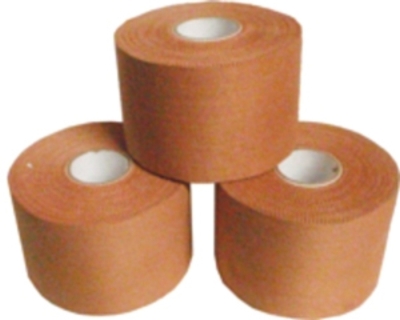 View PhysioAdvisor's complete range of sports tape and accessories.
Return to top of Elastic Adhesive Bandage.
---