Description
AllCare ProTens Machine

How is the AllCare ProTENS machine different?
If you are looking for a reliable battery powered TENS machine with excellent treatment capabilities, the ProTens TENS Machine is the ideal choice for numerous reasons:
1) Effective Treatment of chronic (severe) pain
The AllCare ProTens TENS machine is ideal for treating areas of chronic or severe pain. This may include pain caused by conditions such as osteo or rheumatoid arthritis, back pain, shoulder pain, neck pain, knee pain, muscle strains, tendonitis etc. With adjustable settings to optimise the treatment effect such as: pulse width, pulse rate, intensity, modes and an accurate timer of 15, 30 and 60 minutes (to cut off output at a pre-set time).
2) Simple and easy to use
Adjusting and reading the settings is simple. The analogue knobs on the TENS machine make it easier to adjust the intensity than pressing buttons.
3) Long term use is easy and won't cost you a lot of money
All replacement leads, batteries, and electrodes are readily available. The electrodes are backed with a conductive gel. No extra gel is required. Replacement leads – can be purchased separately at little cost. Batteries – No special hard-to-find batteries, just standard size (available in any supermarket or news agency)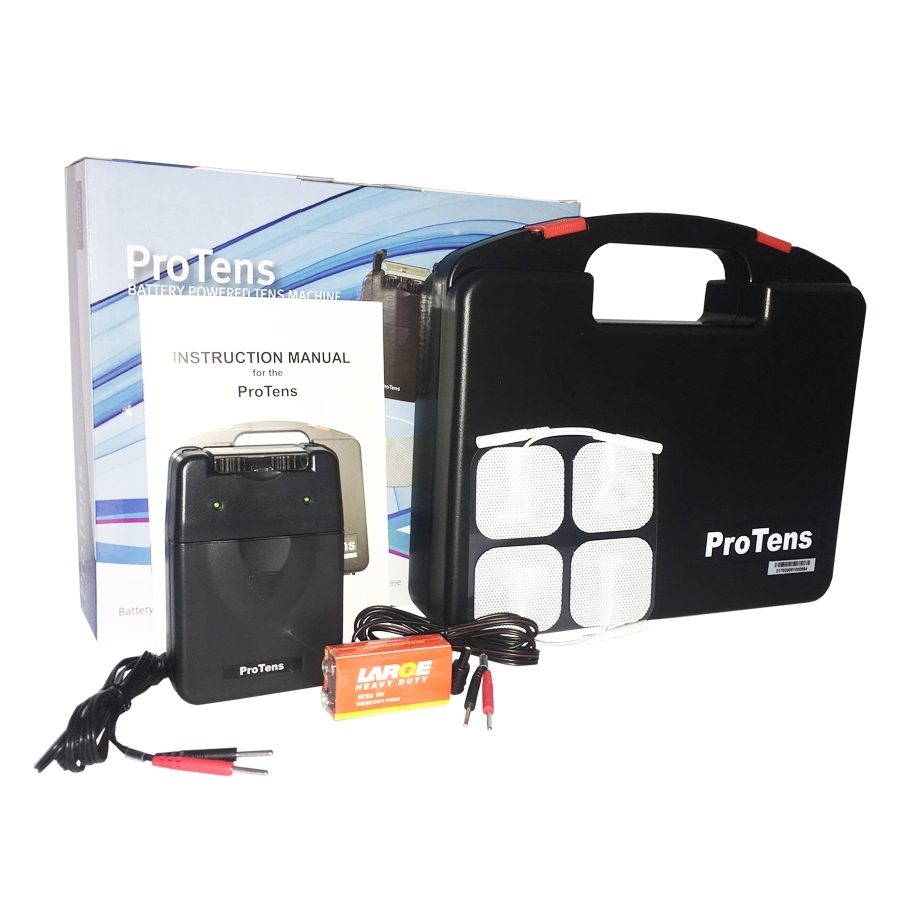 ---
Features:
Dual Channel
Hard Carry Case
Battery Powered
Adjustable pulse width, pulse rate plus intensity
Timer of 15, 30 and 60 minutes
Will stop output at pre-set time
Compatible with commonly available electrodes
Specifications:
Channel: Dual, isolated between channels
Pulse Amplitude: 0-80mA peak to peak into 500 ohm load.
Pulse Rate: Adjustable, from 2Hz ~ 150 Hz
Pulse Width: Adjustable, from 30uS ~ 260 uS
Mode: B, N, M TIMER: Selectable, 15, 30, 60 Minutes (or 15, 30, constant)
Wave Form: Asymmetrical Bi-Phasic Square Pulse
Voltage: 0-40V peak into 500ohm load
---
What you receive
The AllCare ProTens TENS Machine is shipped with everything you need to get started. The contents of the package include:
1 x AllCare ProTens TENS machine
1 x leads
4 x Self-Adhesive Pads with connectors
1 x battery (these are common ones available in the supermarket)
1 x instruction manual
1 x black hard carry case