Description
Thumb Braces
PhysioAdvisor's thumb braces have been carefully selected by experienced physiotherapists to ensure excellent quality and maximal benefit for patients. PhysioAdvisor choses to sell AllCare Ortho Thumb Braces due to their superior quality, performance and value.
---
AllCare Ortho Thumb Braces
The AllCare Ortho Thumb Brace is one of the most commonly recommended by physiotherapists. This quality thumb splint can be used for both left or right hands and is designed to provide maximal support and immobilisation to the joints and muscles of the thumb, therefore reducing stress on the thumb during general activity. The AllCare OrthoThumb Brace can hasten healing and recovery from thumb injuries by preventing further tissue damage during activity.
It is particularly useful for patients who suffer from thumb pain due to conditions such as a Sprained Thumb, De Quervains Tenosynovitis or degenerative changes to the thumb joints such as thumb arthritis.
Features
Universal – can be used for left and right thumbs
Anatomically contoured metal thumb splint to stabilise the thumb
Hook and loop closure for easy adjustment
3mm thick neoprene
Functions:
Stabilises the MCP and CMC joints of thumb
Relieves pain
Provides thermal support and compression
Indications:
First MCP or CMC joint injury
De Quervain's Disease
Gamekeeper's/Skier's Thumb
Rheumatoid Arthritis
Thumb Pain, Sprain/Strain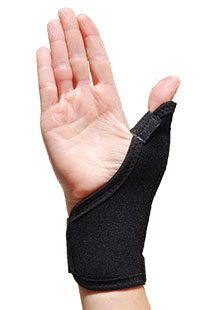 ---
Thumb Brace – Sizing
---