Description
Metatarsal Domes
Metatarsal Domes offer a solution for patients suffering from forefoot conditions including Metatarsalgia, Interdigital Neuritis and Morton's Neuroma by lifting and supporting the metatarsals. Metatarsal Domes have a self adhesive backing on them so they easily adhere to the insole of your shoe or orthotic. Place the metatarsal dome on top of your insole or orthotic just slightly proximal to the metatarsal heads.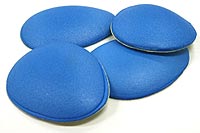 ---
Sizes
The Formthotic variety come in two sizes only – regular and larger (for ordering: regular = size 1, larger = size 2).
Quantities
The formthotic raises are available in packets of 5 pairs.
Sizes
Formthotic Domes size #1 (Regular) = 3 x 4cm
Formthotic Domes size #2 (Larger) = 4 x 5cm
Metatarsal Dome Placement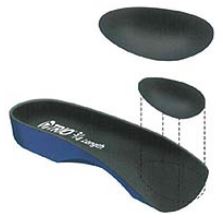 Place the metatarsal dome on top of the orthotic in the centre of the device, slightly posterior to the metatarsal heads. Use either a smaller or larger dome, based on the size of the orthotic device. The metatarsal domes are made of a soft yet supportive density EVA for both effectiveness and comfort. A strong peel-away adhesive will keep this addition in place.
---