Description
Dr Med Universal Finger Splint
Finger Splints provide a convenient and comfortable method of bracing or supporting a finger following injury. This is essential to minimise stress on the affected finger and ensure healing can occur at the fastest rate (i.e. in the absence of further tissue damage). PhysioAdvisor chooses to sell Dr Med Universal Finger Splints as they are one of the most commonly recommended brands by physiotherapists.
Finger Splints are excellent for the treatment of:
Finger Strains
Thumb Strains
Collateral Ligament Tears of the Finger
Joint Capsule Tears (especially affecting the proximal or distal interphalangeal joints i.e. PIP or DIP)
Articular Cartilage Injuries (of the PIP's or DIP's)
Finger Arthritis
Finger Tendon injuries
Finger Fractures (following appropriate fracture management)
For optimal healing of finger injuries, elimination of further tissue damage is essential. Avoidance of damaging activities can be challenging for patients with finger injuries due the high frequency we use our hands in everyday life (e.g. when getting dressed, having a meal, brushing your teeth, turning a tap on, opening a door, picking up objects, when cooking, cleaning, vacuuming sweeping, during general housework, use of computers, use of mobile phones, when driving, writing, typing, gardening, sporting activity, gripping, during manual work etc.). Continued participation in everyday activities without a finger splint can easily perpetuate common finger injuries.  Finger splints provide a convenient solution to support the finger and avoid the common clinical scenario of patients struggling with ongoing pain following a finger injury due to inadequate rest from damaging or perpetuating forces.
---
Dr Med Universal Finger Splints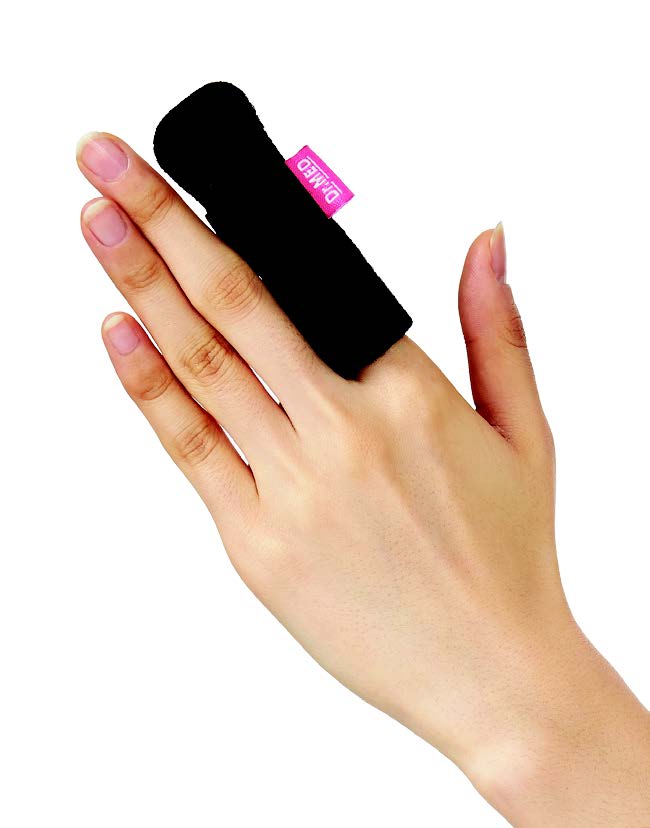 Finger Splint Key Features
One size (Fits All – Universal)
Fits all fingers
Provides adjustable compression support via 2 velcro straps
5 Pack Multipack Discount Available
---