Description
Tubigrip
Tubigrip is an easy-to-use compression bandage that is excellent in the treatment of sports and soft tissue injuries. It provides tissue support in the treatment of sprains and strains, sports injuries, general oedema, post- burn scarring and ribcage injuries and is also used for pressure dressings and arm fixation. Tubigrip is an excellent compression option for implementing the R.I.C.E. regime for sports and soft tissue injuries in the acute or inflammatory phase.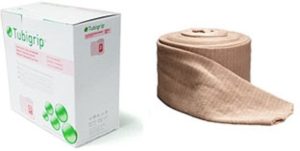 ---
About Tubigrip
Tubigrip provides lasting, effective support with complete freedom of movement for the patient. Once the bandage has been applied, covered elastic threads within the fabric move to adjust to the contours of the body and distribute pressure evenly over the surface. Fitting is quick and easy. Tubigrip stays securely in position without pins or tapes, unlike conventional crepe bandages. It can easily be reapplied after washing, without loss of effect and is subsequently useful for athletes, therapists and patients of all ages. Wastage is minimised, as only the exact amount of compression bandage required is cut from the roll. Tubigrip comes in boxes of 10 metre lengths. Two shades are available – natural and beige. A double layer may be formed for additional compression and support by doubling the bandage back over itself. Ensure that the upper edge of the second layer is taken 2–3cm higher up the limb than the first.
---
Benefits
Provides compression as part of the

R.I.C.E. regime

Provides comfortable, effective tissue support
Easy to apply and reapply
Full range of sizes to suit most applications
No pins or tapes needed
Washable and reusable
Choice of two colours for patient acceptability
---
How to Apply

---
Sizes & Colours
Tubigrip comes in boxes containing 10 metre lengths. Beige colour is flesh tone. Natural is a cream/off-white colour.
| | | | |
| --- | --- | --- | --- |
|  Size |  Length |  Use |  Colour |
|  A (4.5cm) |  10 metres |  Infant feet and arms |  Beige |
|  B (6.25cm) |  10 metres |  Small hands and arms |  Beige |
|  C (6.75cm) |  10 metres |  Medium arms, small ankles |  Beige |
|  D (7.5cm) |  10 metres |  Large arms, medium ankles, small knees |  Beige |
|  E (8.75cm) |  10 metres |  Large ankles, medium knees, small thighs |  Beige |
|  F (10cm) |  10 metres |  Large knees, medium thighs |  Beige |
|  G (12cm) |  10 metres |  Large thighs |  Beige |
|  J |  10 metres |  Large trunks |  Natural |
|  K |  10 metres |  X-Large trunks |  Natural |
|  L |  10 metres |  – |  Natural |
|  M |  10 metres |  – |  Natural |
---
Please read our Return Policy, Shipping Policy, Privacy Policy and Terms & Conditions before ordering.
---