Description
Allcare Pilates Ring
The Allcare Pilates Ring is a popular piece of Pilates equipment used to progress the difficulty of exercises and to increase the overall repertoire of Pilates exercises. The Pilates Ring is an essential part of any serious Pilates class as it challenges the user's strength, balance, control and coordination, helping build better core strength and improved posture.
Features
Non-slip soft foam coating (ensuring smooth, comfortable application of Pilates exercises)
Lightweight and portable (can even fit in your travel bag)
3 resistance levels (light, medium and strong)
Soft handles inside and out
With the Allcare Pilates Ring, you can achieve the remarkable benefits of Pilates in the comfort of your own home. Use the Allcare Pilates Ring to strengthen, tone and reshape your body – especially effective for problems areas such as inner and outer thighs, upper arms, chest, abdominals and pelvic muscles. No matter what your age or condition, this piece of equipment will work for you!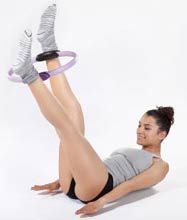 Benefits
Build strength without adding excess bulk
Tone your body for a more shapely physique
Increase your flexibility
Develop strong, flat abdominal muscles
Improve your posture and balance
Learn to breathe correctly
Enhance the connection between mind and body
Goes anywhere!
The Allcare Pilates Circle is a flexible resistance ring you can squeeze with your arms, legs, hands, ankle or feet to perform a variety of Pilates exercises.
---