Description
Thermoskin Heat Retaining Ankle Wrap
PhysioAdvisor's ankle supports have been carefully selected by experienced physiotherapists to ensure excellent quality and maximal benefit for patients.

Thermoskin Ankle Supports
The Thermoskin Heat Retaining Ankle Wrap is designed to retain heat and provide general support to the ankle. It out performs other ankle supports because of its unique Trioxin lining – which is designed to be soft against the skin.
Trioxin's material structure is designed to allow for the free flow of air, therefore improving skin ventilation, facilitating heat retention and aiding the removal of excess moisture. This improved ventilation helps to minimise skin irritation (which may be caused by perspiration) and provides long term comfort for wearers.
With Thermoskin, patients experience less pain, facilitating their rehabilitation and hastening their return to function. Thermoskin heat retainers will enable the return to routine activity more quickly following injury. The Thermoskin Ankle Support is designed to give soothing comfort and warmth to patients following ankle injuries and is particularly beneficial for arthritis sufferers.
---
 Advantages of Thermoskin Ankle Supports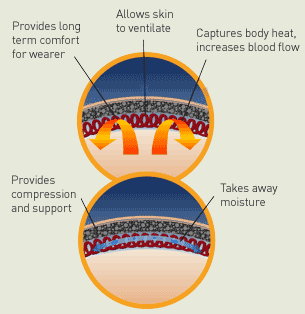 The application of prolonged heat to the affected area is a simple and rapid form of treatment. Heat treatment (via the Thermoskin ankle support) promotes healing via the following effects:
The expansion of blood vessels, therefore improving blood flow to the affected tissue. This facilitates the removal of cellular debris and improves the transportation of nutrients to the damaged tissue therefore hastening the healing process.
Provides light but firm compression to reduce soft tissue swelling.
Promotion of optimal muscle function – at 1°C higher than the body's normal resting temperature.
Increases elasticity and reactivity of the muscle, so that after heat application the collagen fibres become more extensible and responsive to rehabilitation exercises.
Thermoskin has been clinically tested to increase the temperature of skin and subcutaneous tissue (below the skin) by up to 1.8°C.
Provides temporary relief from the pain and soreness associated with sports injuries, arthritis and overuse injuries.
Proprioception (support); improves perception of correct body position therefore reducing the likelihood of injury aggravation and recurrence.
Allows enhanced skin ventilation compared to other products therefore improving oxygenation for extended periods.
---
Sizing – Measure around ankle joint
XS – 21-23cm  – 8¼-8¾"
Small – 23-24cm – 8¾-9½"
Medium – 24-25cm – 9½-10″
Large – 25-26cm – 10-10½"
X-Large –  26-28cm – 10½-11″
XX-Large – 28-30cm – 11-11½"
Please read our Return Policy, Shipping Policy, Privacy Policy and Terms & Conditions before ordering.
---
Other Ankle Supports and Braces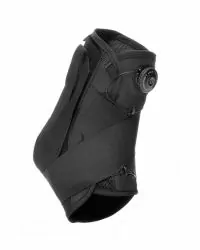 Dr Med Ankle Brace (no laces) NEW!!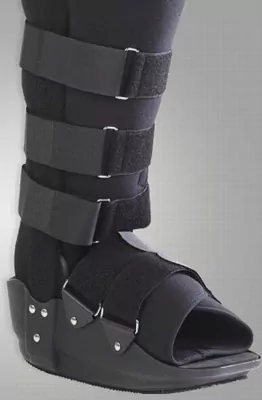 AllCare Ortho Standard Walker (Cam Boot / Fracture Walker)
---