Pectoral Stretch
Updated:
(Main muscles Involved: Pectoralis Major, Pectoralis Minor, Subscapularis, Serraturs Anterior,
Anterior Deltoid)
The pectoral stretch is designed to improve the flexibility of the pectoral muscles (figure 1). You should discuss the suitability of this exercise with your physiotherapist prior to commencing it.
To begin with, the stretch should be held for 15 seconds and repeated 4 times at a mild to moderate stretch pain free. Generally the stretch should be performed 3 times daily. As your flexibility improves, the exercise can be progressed by increasing the frequency, duration and intensity of the stretch provided it is pain free.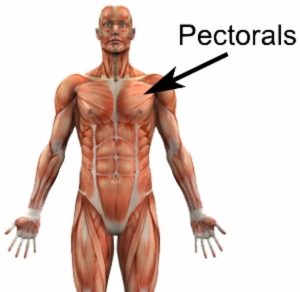 ---
Pectoral Stretch
Pec Stretch
Begin standing tall with your forearm against a wall and your elbow bent to 90 degrees as demonstrated (figure 2). Gently turn your body away from the wall until you feel a mild to moderate stretch across your chest. Hold for 15 seconds and repeat 4 times provided the exercise is pain free.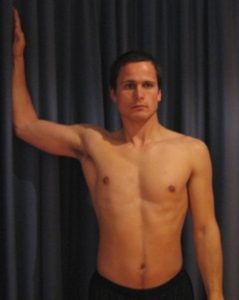 ---
---
---
Pectoral
Self Massage Exercises
---

Find
a Physio
Find a physiotherapist who can assist with pectoral flexibility exercises and rehabilitation.
---
---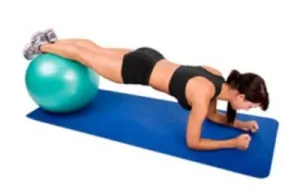 More Exercises
---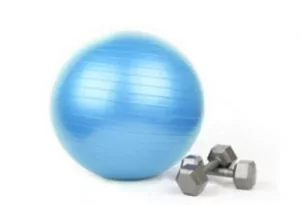 Physiotherapy Products
To purchase physiotherapy products to assist with pectoral stretches click on one of the above links or visit the PhysioAdvisor Shop.
---
Become a
PhysioAdvisor Member
---

Link to this Page
If you would like to link to this article on your website, simply copy the code below and add it to your page:
<a href="https://physioadvisor.com.au/exercises/flexibility-muscles-2/pectorals">Pectoral Stretch – PhysioAdvisor.com</a><br/>PhysioAdvisor offers detailed physiotherapy information on exercises including how to perform a pectoral stretch.
---
Return to the top of Pectoral Stretch.