Description
Back Supports
PhysioAdvisor's back braces and back supports have been carefully selected by experienced physiotherapists to ensure excellent quality and maximal benefit for patients.
---
Dr Med Industrial Belt (B003)
The Dr Med Industrial Belt is a comfortable, economical and effective back support which is ideal for use at work or at home. It is designed to reduce stress on the joints and muscles of the spine during physical labor or activities placing the spine at risk of injury. It is lightweight, comfortable and provides excellent support to the lower back to assist those patients suffering from lower back pain.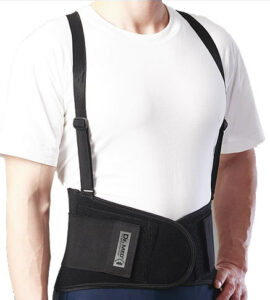 Features / Benefits
Width at back – 20cm – thinner than most back braces – a great width for frequent movement and bending
4 x Built-in flexible plastic stays
Double-pull fastening straps reinforce compressive support of the lower back
Black colour suitable for workplace
Soft inner padding underneath front straps improves comfort
Shoulder straps for convenience – can easily be cut off with scissors if preferred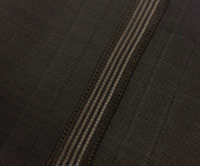 Figure 1 – Two strips on the inside of the back support help to keep it in place
---
Back Support Shoulder Straps / Braces
The elastic shoulder straps are often used to help snug fitting of this back support and to keep it in the ideal place. They are also useful in a workplace or during activities which may only require intermittent use of the brace. In this situation, you can release the tension of the velcro and continue to wear the support by letting it hang using the straps. Then at the time you need to protect your back again, simply re-tighten the brace. This can save time and hassle associated with completely taking the back support off and then putting it back on again for further use.
Removing shoulder straps / braces
If you do not require the shoulder straps, simply cut them off with a pair of scissors.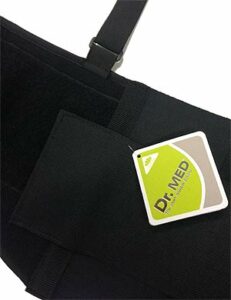 Figure 2 – Back Support detail including shoulder straps
Select this brace if you:
Want a thinner width
Want to help protect your back inury for returning to work or physical labour
Optional braces for convenience (can easily be removed)
---
Dr Med Industrial Belt (B003)
Sizing – To determine your size, measure your waist circumference.

---
View Alternative Product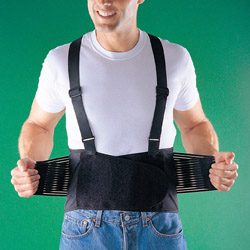 Oppo Industrial Back Support
Other Back Supports & Braces:
---