Description
Knee Supports
PhysioAdvisor's knee supports have been carefully selected by experienced physiotherapists to ensure excellent quality and maximal benefit for patients. PhysioAdvisor chooses to sell the Dr Med Hinged Knee Support as its premier hinged knee support as it provides a moderate level of support and stability which is ideal for many knee conditions and patient presentations. Dr Med Hinged Knee Supports also provide excellent comfort and value and are commonly recommended by physiotherapists and other health professionals in clinical practise.
---
Dr Med Hinged Knee Supports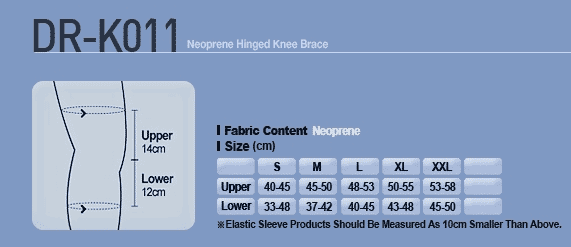 The Dr Med Hinged Knee Support has been designed to provide a moderate level of support, a high level of comfort and is suitable for many knee injuries including:
Patellar Dislocation and Subluxation
Inflammation of the patella tendon sheath (see Patellar Tendinitis)
Articular Cartilage Injuries
Knee Joint Capsule Sprains
It may also be suitable for some patients with less severe cases of Knee Arthritis without significant knee deformity
The Dr Med Hinged Knee Support is designed to reduce stress on the knee during activity and is often indicated clinically for patients with the above conditions, especially those who are unable to rest from aggravating activities. It is also ideal for patients who need to hasten their return to activity following injury (often before sufficient healing has taken place) without causing further tissue damage.
Dr Med Hinged Knee Supports help to minimise or avoid ongoing damage during activity which would slow or prevent recovery from a knee injury. This therefore reduces the risk of injury aggravation, allowing an earlier return to sport or activity, whilst hastening healing. Ideal for patients who need a knee brace or knee support but find larger, more supportive braces too bulky, uncomfortable and restrictive.
---
Key Features
Double thickness neoprene pad above / below knee to help support patella tendon.
Reinforced patella opening for added support of the patella (knee cap) and patello-femoral joint.
Lateral hinges (providing lateral stability and support during side to side and twisting movements).
Wide straps for secure fit and easy adjustment.
Hinges are removable for washing.
Provides a medium level of support ideal for many knee injuries.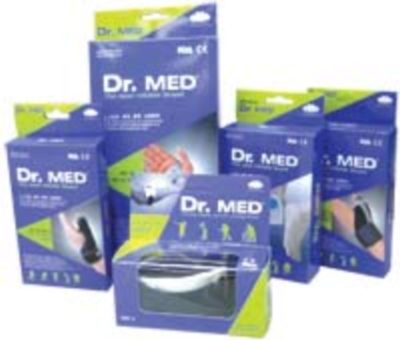 ---
Dr Med Hinged Knee Supports – Sizing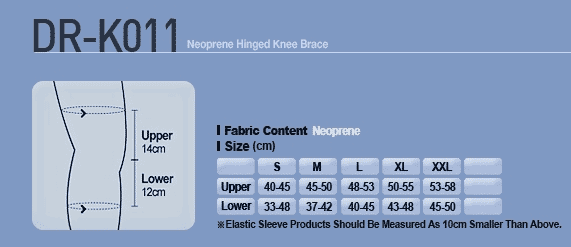 ---
Other Knee Supports and Braces
---