Description
Footlogics Orthotics
Footlogics orthotics control excessive foot pronation. This results in improved lower limb biomechanics and alignment with subsequently improved load distribution under the foot. Footlogics products feature Dual Layer Orthotic technology® to ensure optimal biomechanical control and maximum comfort when walking. Your Footlogics prescription can be tailored to your foot using orthotic wedges and heat moulding if desired.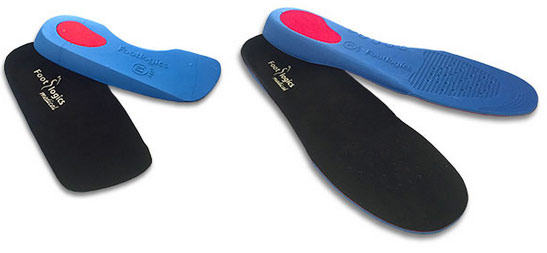 Footlogics Orthotics Features
Ideal for athletic footwear, roomy lace-up shoes, work and hiking boots
Made of firm density E.V.A.
Deep stabilising heel cup
Longitudinal arch support
Intrinsic rearfoot varus angle
Built-in Metatarsal support.
Durapontex® layer for extra cushioning
Velours top cover for added walking comfort.
Shock absorber in the heel region
High quality, durable orthotic
Affordable orthotic therapy
About the Density
Footlogics has chosen blue coloured E.V.A. which is very tolerable for most patients. It also allows the Practitioner to have excellent control for mild to medium foot dysfunction. Footlogics products are manufactured for the International market and the selected E.V.A has proven to be the most suitable for all foot types. Rather than stock many densities, it is suggested that this one density be held and then any "special" needs be addressed with other Footlogics products. This approach simplifies orthotics prescription and aims to eliminate potential confusion with variable density products.
---
Why choose Footlogics Orthotics Medical Range?
Priced up to 40% below competing brands
Provides effective orthotic therapy
Offers excellent biomechanical control
High tolerance for most foot types
Proven orthotic profiles
Orthotic prescription can be fine-tuned with wedges, additions and heat moulding (if desired)
Quick and easy to dispense
100% Australian owned
---
Footlogics Full Length Orthotics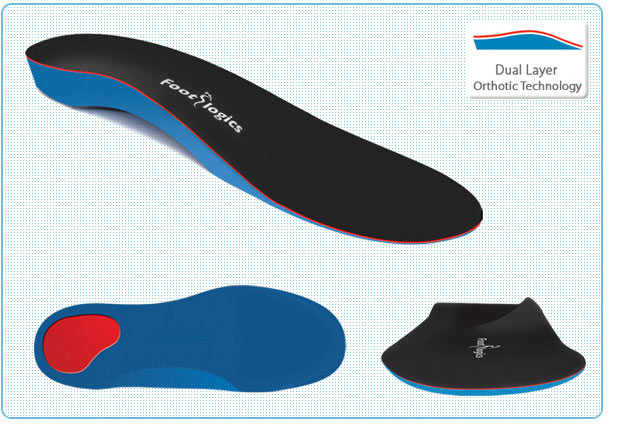 Fitting:
When fitting a full-length orthotic you'll often find that some type of flat insole or lining is present within the shoe. Please remove this before fitting the orthotics. Full-length Footlogics orthotics can be trimmed to size to fit your shoes. Any pre-existing loose insole or lining can be used as a template to trim the orthotic, or alternatively follow the trim lines at the underside of the device.
---
Footlogics ¾ Length Orthotics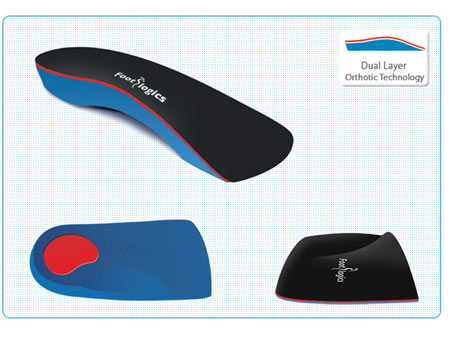 Fitting:
Use the sizing chart below to determine the correct size. For greater accuracy in fitting a 3/4 length orthotic, place the device under the patient's foot and make sure the distal edge of the orthotic finishes about 5-10mm behind the bisection of the 1st Metatarso-phalangeal joint.
---
Footlogics Orthotics Modification with Wedges and / or Heel lifts
To fine-tune your orthotic prescription, you may add orthotic wedging to the plantar surface of the device. For example, some patients with severe pronation may need an additional Rearfoot Varus wedge under the orthotic device providing extra biomechanical control.
A heel lift may be used for patients with conditions such as Achilles Tendinopathy, Achilles Tendon Tear, Calf Strain, Anterior Ankle impingement or patients presenting with a leg length discrepancy.
---
Footlogics Kids Orthotics
All small children have flat feet, however by the age of 4 to 5 the arches should start to develop. However, in many children the foot remains flat, displaying excessive pronation and an abnormal gait pattern. As a result, these children will often suffer from Heel Pain (Sever's Disease), Knee pain (Osgood-Schlatters disease), general foot pain, ankle pain as well as aching legs.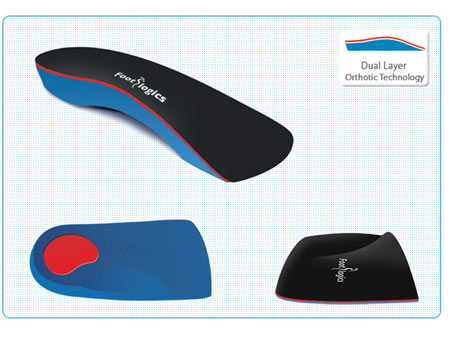 Footlogics Kids orthotics provide adequate biomechanical support and restore the child's walking pattern. By re-aligning the child's feet early on, many biomechanical complaints can be prevented, allowing the feet to develop more naturally. Orthotic features include a deep stablising heel cup and longitudinal arch support.
---
Footlogics Orthotics Wedges and Additions
Rearfoot Varus Wedge
For patients with severe excess pronation and/or flat feet a rearfoot varus wedge can be applied to increase subtalar joint control. The Footlogics Rearfoot post has a 4 degree inclination and is made from extra firm density EVA for maximum effectiveness and long-term wear. The rearfoot wedge is self-adhesive and is placed over the entire heel area with the thicker side on the the medial side of the device.

Forefoot posting
An inverted (varus) orientation of the forefoot can be treated by placing a wedge on the medial side of the orthotic under the first MTP joint.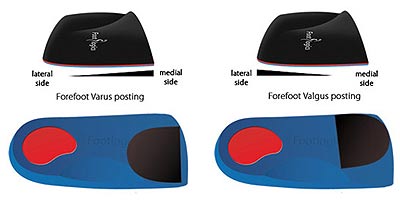 In case of a Forefoot Valgus abnormality (i.e. the plantar plane of the forefoot is everted relative to the plantar plane of the rearfoot) a post can be placed on the lateral side of the orthotic. This will also encourage increased propulsion through the Hallux.
NOTE: Footlogics Rearfoot Varus wedges can also be used for forefoot posting, as shown above. Please use the small rearfoot wedges (size XS-M) for the larger sizes orthotics (L and XL). You may trim the wedges to size with regular scissors.
Heel Lift

Footlogics heel lifts help reduce the stress on the Achilles Tendon, calf and anterior ankle and can relieve pain associated with conditions such as Achilles Tendionpathy, Achilles Tendon Tears, Calf Strain, Anterior Ankle Impingement and Sever's Disease. They can also be used when a patient presents with a functional or structural short leg by lifting up the shorter leg. The heel lift should be placed under the orthotic, right to the back, as shown. Footlogics heel lifts are 4mm or 8mm high and are made of extra firm E.V.A for enhanced durability.
---
Footlogics Orthotics Sizing

---