Description
Heat Wheat Handy Pack
The Heat Wheat Handy Pack is one of our most popular hot pack products and is ideal for heat treatment of many injuries. It has numerous health benefits including:
Increased local blood flow
Increased local transport of oxygen and nutrients to tissue
Reduced muscle tightness
Reduced muscle spasm
Reduced pain
Faster healing following injury
For information on when and how to use an ice pack or hot pack click here.
(N.B. Product colour may vary depending on availability)
Dimensions: 180mm x 320mm. Weight: 930g.
The Heat Wheat Handy Pack is a segmented hot pack, which means it is lighter in weight. It is also a very handy size for pain in the chest, neck, shoulders, arms, hands, lower back, hips, knees, calves and stomach. It is also commonly used as an effective form of menstrual pain relief.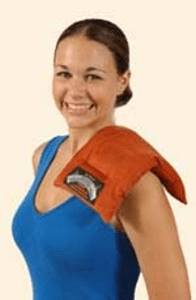 ---
Heat Wheat Products
Heat Wheat products are used worldwide by people seeking natural, drug free pain management for muscular aches, spasm and injuries. They are a cold & hot pack that can be placed in the microwave or freezer to generate moist heat therapy or cold therapy to effectively and naturally manage any aches and pains that you suffer from.
Ready in minutes from your microwave oven.
No-mess cold packs straight from the freezer.
Comfortably molds to the shape of the body.
Durable and long lasting.
For all the family.
Made from only top quality materials.
Manufactured to strict quality Australian standards.
Please read our Return Policy, Shipping Policy, Privacy Policy and Terms & Conditions before ordering.
---