Description
Orthotics
The following orthotics have been carefully selected by experienced physiotherapists to ensure product quality and maximum benefit for patients.
---
Superfeet Orthotics
This exciting brand was developed by podiatrists. Using the principles of medicine they have created a versatile range of insoles with impressive health benefits.
The Superfeet Orthotic GREEN is the most popular Superfeet insole and has been on the market for over 30 years. It is designed primarily for footwear with a removable insole and is the recommended choice for those seeking maximum support and shock absorption.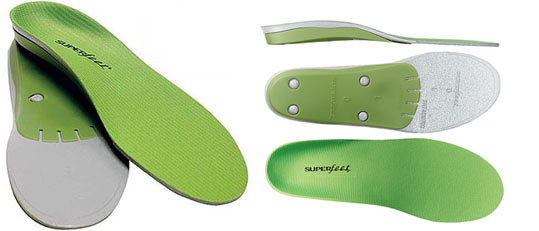 Features
3/4 length support cap provides optimum control and flexibility
Slight bump provides independent metatarsal support for added flexibilty
Light weight, pre-compressed foam full length top for comfort and durability
Extra deep heel cup for maximum shock adsorption
Anatomically correct arch shape for comfortable support
Agion® antimicrobial treated top cover inhibits the growth of odour-causing bacteria
---
TRIM-TO-FIT-GUIDE
How you trim your insoles can have a great effect on how well your new insoles will work and feel. Just follow these 3 simple steps…

STEP 1 – Remove the original insole from your footwear (Fig.1). To work properly, your Superfeet insole should lie on the bottom surface of your footwear. It should not rest on any insole, arch pad or heel cushion material; these items should be removed.
STEP 2 – Place the original insole over the top of your new Superfeet insole, lining up both the heel (Fig. 2) and inside edge (Fig. 3). With a marking pen, trace the original insole pattern onto the new Superfeet insole . Trim the insole by cutting along the inside edge of the tracing line. Care should be taken not to trim too short nor too long. Trim it, try it… Trim it, try it.
STEP 3 – Fit your insole into your footwear, ensuring it rests properly on the bottom. The insole needs to have minimal back-to-front movement inside the footwear (about 1/16″ or 2mm) to ensure the insole moves with your foot inside your footwear, and is not jammed heel-to-toe. This is very important. Properly trimmed, your insoles will fit easily into your footwear without a struggle, and will not curl up in the toe area.
If You Have No Original Insole
If there is no original insole in your footwear to use as a template, place your footwear over your new Superfeet insole, and trace an outline around the toe area. Then follow the usual trimming instructions. Hint: trace and trim one insole first, then use it as a template for the matching pair.
Too Tight In The Forefoot
If your footwear is too tight to accommodate the full length of your new Superfeet insole, trim off the forefoot by cutting along the designated lines under the insole. This will have no effect on the biomechanical benefits of the insole.
---
Sizing

AVAILABLE SIZES: A-H | Men: 5.5 to 17 US | Women: 2.5 to 12+ US | Junior: 13.5 to 4 US
If the size you selected is too short (Fig. A), go up one size
Check the heel width. If width is too small (Fig. C), go up one size (Fig. D).
Follow the Quick Trim and Fit instructions from the beginning of the Guide.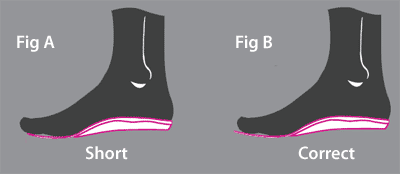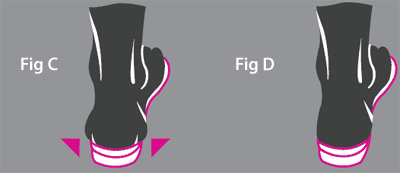 ---