Description
Shoulder Braces
PhysioAdvisor's shoulder braces have been carefully selected by experienced physiotherapists to ensure excellent quality and maximal benefit for patients. PhysioAdvisor chooses to sell the Thermoskin Shoulder Brace due to its versatility, superior quality and performance.
---
Thermoskin Shoulder Brace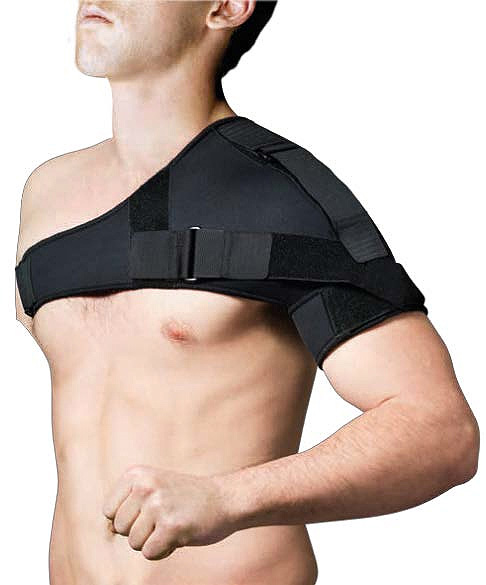 ---
Thermoskin Shoulder Brace Description
Key Features
The Thermoskin Shoulder Brace features a low profile design with adjustable arm and chest straps for greater comfort
Breathable material with moisture wicking (i.e. allows the flow of moisture through the material)
Clinically validated
Only one size – no measurement required (i.e. one size fits all)
Suitable for left or right shoulder injuries. Simply swap the strap and fit to either side.
Provides warmth, compression, support and stability
V-Stabiliser system designed for additional support and stability therefore allowing adjustment of the shoulder brace to suit the requirements of the injury and stage of rehabilitation.
The Thermoskin® Shoulder Brace with Adjustable Shoulder Stabiliser and Harness is a high quality, versatile product providing protection, warmth and compression support for weak or injured shoulders.
This shoulder brace has a cutaway design for optimal comfort with customised straps which contour to left or right shoulders. The Thermoskin® Adjustable Shoulder Stabiliser features a customisable and removable V-Stability System, which provides extra support and stability to the shoulder as required. This versatile feature allows the patient to easily adjust the level of shoulder support and stability, therefore suiting individual patient needs and preferences, whilst providing appropriate levels of support for various stages of shoulder rehabilitation.
---
Clinical Indications
The Thermoskin Shoulder Brace is commonly used in Physiotherapy clinical practise for conditions such as:
---
Fitting Instructions
| | |
| --- | --- |
| . | Firmly position the product on the injured shoulder (either right or left), with the seam running directly over the shoulder blade (scapula). |
| | With the chest strap open to the front, place the shorter strap across the chest and feed the longer strap under the opposite arm and through the buckle of the short strap, pull taut until comfortable. |
| | Wrap bicep strap around bicep until firm and fix in place. |
Optional V Stabiliser
| | |
| --- | --- |
| . | Place the V-Stabiliser System on a table, so that straps A,B and C are laid flat. |
| | Position Tab (i) on the bicep strap, making sure strap C is along the mid-line of the shoulder. |
| | Attach strap A to the chest then attach strap B to the back. |
| | Attach strap C to the mid-line of the shoulder. Adjust straps accordingly for additional stability. |
WARNING: Do not wear within the first 72 hours following an acute injury (i.e. during the inflammatory phase). This product contains a synthetic fibre, which may cause allergic reactions. Should an irritation or rash develop, discontinue use and seek medical advice. If pain persists, discontinue use and consult your medical professional.
---
Shoulder Brace Sizing
No Measurement required – one size fits all.
---
Other Shoulder Supports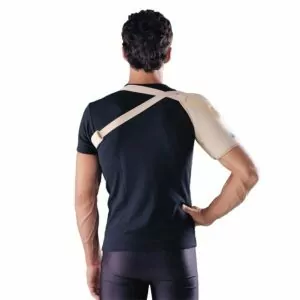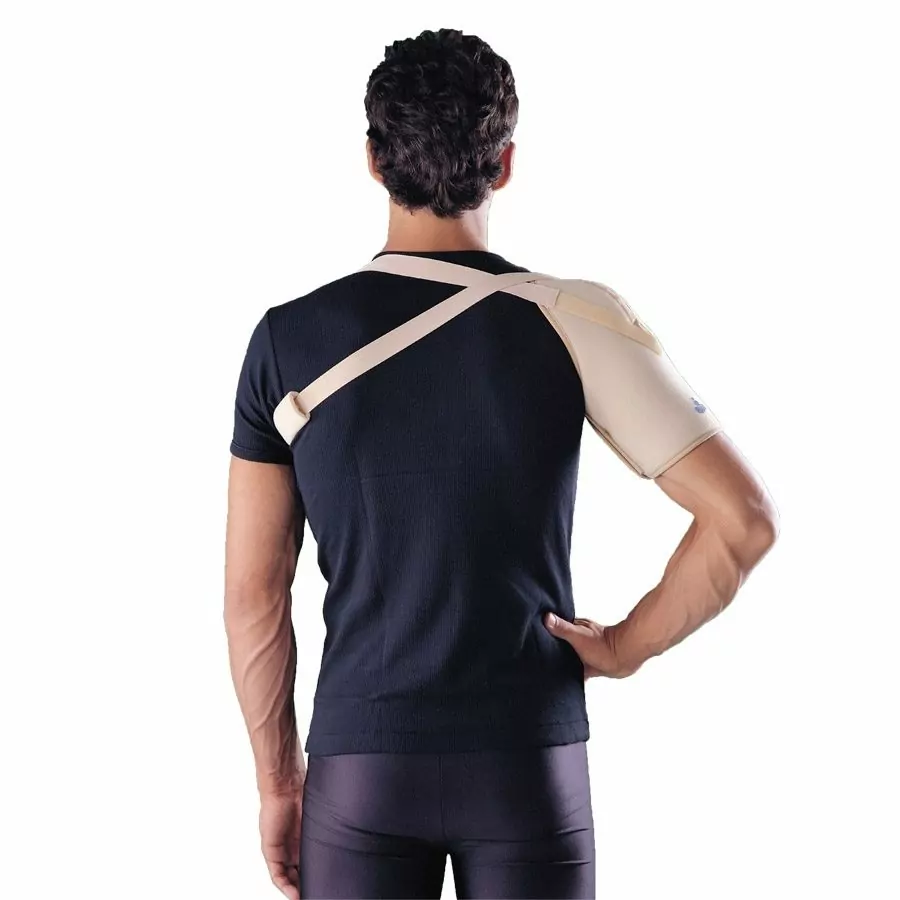 View the Oppo Humerus Brace.
---