Description
Wrist Braces
PhysioAdvisor's wrist braces have been carefully selected by experienced physiotherapists to ensure excellent quality and maximal benefit for patients.
---
Dr MED Deluxe Wrist Brace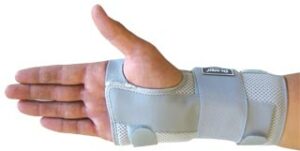 PhysioAdvisor chooses to sell only the Dr MED Deluxe Wrist Brace due to its superior quality and performance.
The Dr MED Deluxe Wrist Brace is one of the most commonly recommended wrist supports by physiotherapist for patients. It is used to help treat a variety of conditions including:
Sprained Wrist
Carpal Tunnel Syndrome
Triangular Fibrocartilage Complex Injuries
Return to activity following a period of immobilisation of a wrist fracture
Return to activity following certain types of wrist surgery
The Dr MED Deluxe Wrist Brace features:
Superior wrist support
Three anatomically shaped internal stays: Palmar aluminium and two back plastic stays provide maximum support and immobilisation of the wrist in a neutral position.
Two adjustable straps provide great pressure and allow you to adjust for maximum stability and firm fit.
Super comfortable soft double cotton lining ensures it is both breathable and durable.
Anatomical design means that it does not catch in the webbing of thumb and allows for maximum movement of fingers.
Purpose & Function
Provides support to all regions of the wrist
Offers relief of pain and alleviation of symptoms
Protects the wrist and decreases the load applied to the wrist during certain activities
Helps in the prevention or recurrence of wrist injuries
Provides support for weakened muscles (e.g. following surgery)
Sizing
Conveniently available in small, medium and large sizes. To determine your size, take a measurement of your wrist circumference in centimetres.
| | |
| --- | --- |
| Measurement | Size |
| 14cm – 15cm | Small |
| 15.5cm – 16.5cm | Medium |
| 16.5cm – 17.5cm | Large |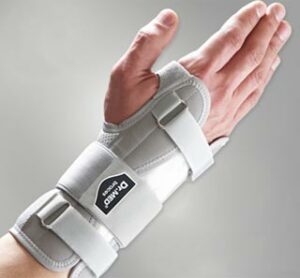 ---