Description
The perfect fitting ankle brace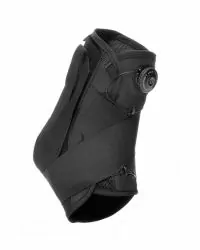 Ankle Brace Overview:
No laces for quick application
Adjustable compression using BOA
Lightweight, ventilated material
Figure 8 straps
Lateral & medial splints
---
The new Dr. Med Ankle Brace with BOA is everything you need in an ankle brace…
1. FIGURE 8 STRAPS
These figure of 8 straps start from the top of each side of the ankle and cross diagonally over the front of the foot and then underneath to the other side. They anchor to adjustable velcro in a vertical fashion and can be adjusted to the desired level of support. These straps are designed to mimic the technique of taping your ankle using rigid sports tape and are similar to a 'stirrup' or 'figure of 6' strapping technique.
2. SIDE STABILISERS
Medial and lateral plastic inserts assist in preventing inversion and eversion of the ankle. They are also shaped to avoid putting pressure on the medial and lateral malleoli (i.e. bony prominences situated on each side of the ankle) for optimal comfort.
3. LOW BULK
Ankle braces work most effectively in conjunction with the compression of the shoe. However, when material is too bulky it can be uncomfortable, especially underneath the foot. The Dr Med Ankle Brace with BOA provides the firmest support combined with very low profile in the shoe.
4. FAST APPLICATION
No more wasted time threading and adjusting laces on traditional ankle braces. Simply release the BOA dial, push out the tongue, and insert your foot. A few quick twists of the dial to re-tighten and you're ready to go.
5. EXCELLENT COMPRESSION
Most ankle braces use regular shoe laces for tightening. To insert your foot easily, you must loosen the laces at the bottom of the support. Then to ensure sufficient compression, you must re-tighten all of the laces. This can be tedious, and often results in having inadequate compression over the top of your foot. However, the Dr Med BOA system spreads the compression firmly and evenly all the way up the support. As you turn the simple BOA dial system, the entire brace compresses simultaneously giving you reliable adjustment and ideal support every time.
5. QUALITY MATERIALS
The Dr Med Ankle brace comprises of a ventilated section in the tongue, with soft inner padding for comfort. It also features a thin, lightweight, but tough outer layer to prevent splitting and enhance support.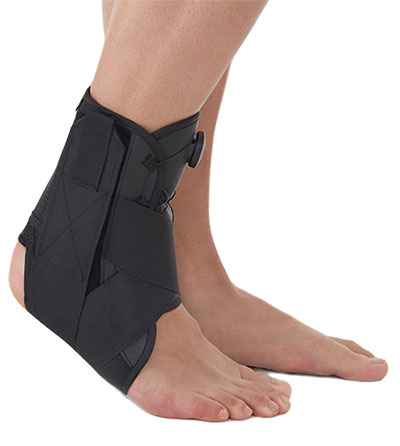 ---
Dr. Med Ankle Brace Sizing (US Shoe size)
Fits left or right ankles.
| | | |
| --- | --- | --- |
| Size | Men | Women |
| Small | 6 – 7 | 7 – 9 |
| Medium | 8 – 10 | 10 – 11 |
| Large | 11 – 12 | 12 – 13 |
| X-Large | 13 – 14 | – |
---
Dr. Med Ankle Brace BOA System
The BOA tightening system contains three key components: a micro-adjustable dial, super-strong lightweight laces, and low friction lace guides. Turn to tighten + Quick release. With instant, single-handed fine tuning as precise as 1mm, you can easily adjust for comfort or a more targeted performance without ever losing focus. And once dialed in, The Boa System stays that way.
The Boa System dials and laces are guaranteed for the lifetime of the product on which they are integrated.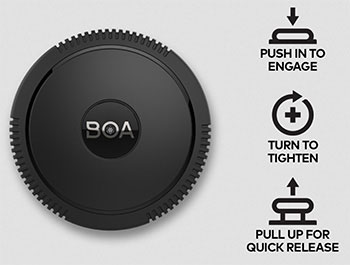 Product Code: DMA081
---
Other Ankle Braces and Supports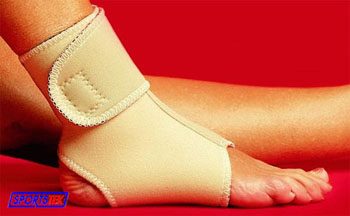 Thermoskin Heat Retaining Ankle Supports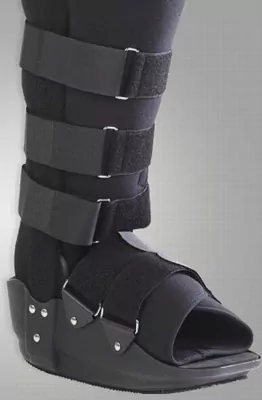 AllCare Ortho Standard Walker Cam Boot (Fracture Walker)
---