Description
Online Physiotherapy Consultation (Premium Package)
Below is a list of features for PhysioAdvisor's Online Physiotherapy Consultation (Premium Package):
….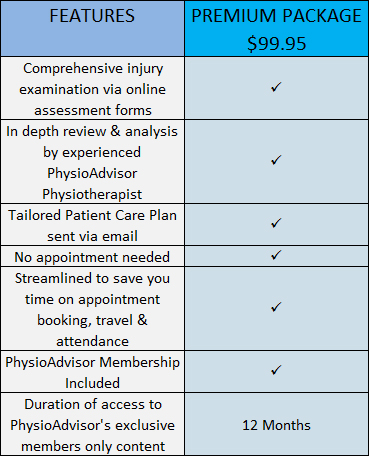 If you wish to purchase a basic package with a 3 month PhysioAdvisor Membership, you can do so via the link below:
Please read our Terms & Conditions before purchasing an Online Physiotherapy Consultation.
---
Frequently Asked Questions
How can Physiotherapy be performed Online?
Great question! We all know that Physiotherapy is traditionally thought of as adopting a very hands on approach. However as an evidence based profession, Physiotherapy is moving away from its reliance on passive treatment techniques such as manual therapy and the use of complex machinery.
Recent research demonstrates that best outcomes are achieved with a more active approach focusing on patient education, lifestyle modification advice and progressive exercises. This converts extremely well to our online Physiotherapy consultation format. You can read more about our evidence based approach in the following article – How can Physiotherapy be performed online?
What is a Tailored Patient Care Plan?
You can read about PhysioAdvisor's Tailored Patient Care Plan here – What is a Tailored Patient Care Plan?
When will I receive my Tailored Patient Care Plan?
Once payment is received one of our experienced Physiotherapists will get to work analysing your completed Injury Assessment and compiling your comprehensive Tailored Patient Care Plan (including your PhysioAdvisor Membership).
Most Tailored Patient Care Plans are sent within 24 hours (Please allow up to 1 -2 business days for your plan to arrive).
Can I pay without a PayPal account?
Absolutely! All Online Physiotherapy Consultation can be paid with either a PayPal account or credit card (via the PayPal website).
What are the benefits of Becoming a PhysioAdvisor Member?
As a valued PhysioAdvisor Member, you will gain access to our exclusive Members Only Content comprising of thousands of hours of evidence based Physiotherapy articles designed to help you take control of your injury and accelerate your journey to wellness.
Read about the full benefits of Becoming a PhysioAdvisor Member.
What is the difference between a Basic and Premium Online Physiotherapy Consultation Package?
The only difference is the PhysioAdvisor Membership duration. The Basic Package provides 3 months access to PhysioAdvisor's exclusive members only content (for $79.95 AUD). The Premium Package provides 12 months access (for $99.95 AUD).
---