Description
Heat Packs are a fantastic rehabilitation tool commonly used to optimise physiotherapy management of many injuries. By warming tissue, heat packs help to relax muscles, improve blood flow, speed healing and reduce pain naturally without the use of drugs (amongst numerous other benefits).
PhysioAdvisor chooses to sell Comffit Lupin Heat Packs as they are a commonly sold physiotherapy brand and represent a new heat pack innovation with improved features compared with traditional wheat packs. Some of these improved features include longer lasting heat (i.e. improved heat retention) and less odour.

Effective, Natural, Drug-Free Pain Management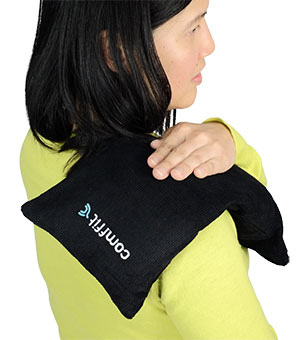 Washable outer bag with unique microwave-safe zip
Ideal size (35 x 15cm) suitable to wrap around all body parts
Can be used for cold therapy – simply place in the freezer to use as a cold pack
Black corduroy bag
Ideal for in-store retail sales
Warmer, Longer lasting heat
With improvements on the traditional wheat pack…
The Comffit Lupin Heat Pack is a new product that has only recently come to market and features some major improvements over the traditional, standard heat 'wheat' pack. These include a new lupin filling that minimises odour and increases heat retention, as well as a microwave safe zip and the ability to wash the outer bag. Each heat pack comes in a great looking retail carry bag and contains care instructions.The pack also has the ability to sit upright on your display shelf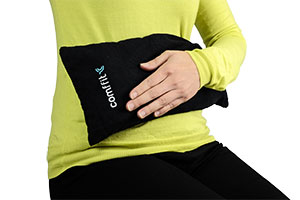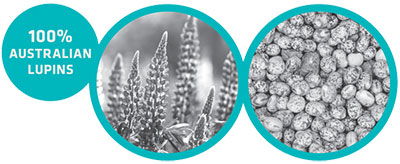 Lupins vs. Traditional Wheat
Compared with traditional wheat, these lupins:
Are 30% lighter
Retain heat longer
Have a greater lifespan
Have less odour
Have a lower allergy rating
Are 100% Australian grown
Are a type of bean (or legume seed) originating from a plant of the pea family (genus lupinus)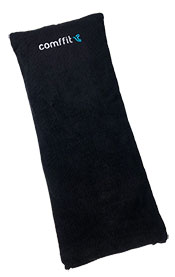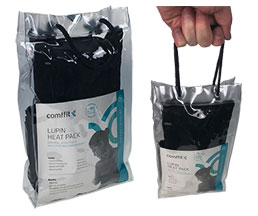 Great retail packaging
Self-standing
Ideal for clinics
Heat Pack Benefits
Some of the key benefits of the use of heat packs for injury treatment include:
An increase in local blood flow (due to blood vessels dilation)
Increased transportation of nutrients, oxygen and cells (responsible for tissue repair) to local tissue
Reduced muscle tightness
Improved soft tissue elasticity
Reduced muscle spasm
Pain reduction
Faster healing following injury
To learn key tips on when and how to use an ice pack or heat pack, view our ice or heat article.
---